Station Summit 2017 – What Happened in Vegas
Posted by
Chad Cook
on June 30, 2017
|
No comments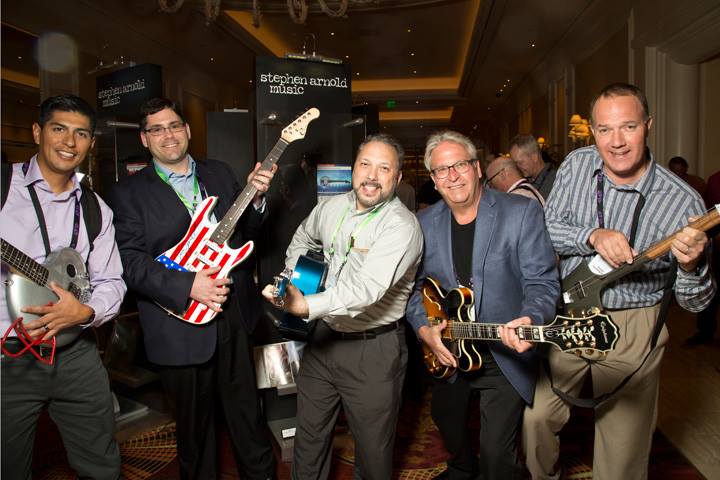 Every year, it's a big event for us here at Stephen Arnold Music (SAM). This year's convention, held at the Mirage Hotel/Casino in Las Vegas on June 19-22, was no exception!
Business breakfasts, lunches, dinners, cocktails, receptions, client meetings, hosted suites – you name it, we did it all! It's an incredible opportunity for us to stay in close, personal touch with all of our friends and customers. And we even managed to host a few big events as well.
First off, Stephen Arnold Music was nominated for 5 (count 'em – FIVE) Promax Gold Awards in three different categories. And we brought home a big one: a Promax Gold Award for our work on Seattle's ABC affiliate KOMO and their So Northwest campaign. A customized version of Stephen Arnold Music's popular Everywhere I Go market exclusive image package, So Northwest topped the "Music or Instrumental Theme With or Without Vocals" category at this year's PromaxBDA Awards.
Later that day, a huge crowd gathered at the SAM display at the Mirage for our annual tradition, the PROMAX Station Summit Guitar Giveaway! This year, each guitar represented a different segment of a local newscast (Sports, Political Coverage, Weather, Morning News, Investigative). Congratulations to our 2017 winners (L-R): Angel Preciado, KUVS, Sacramento, CA (TONAL football helmet guitar); Chris Tabor, WHAM, Rochester, NY (autographed Springsteen flag guitar); Pete Ferraro, WBFF, Baltimore, MD (RainSong Concert Series guitar); Kirk Szesny, KSTP, St. Paul, MN (Epiphone Sunburst Sheraton II guitar); Mark Kammerich, KMIZ, Columbia, MO (Justin Johnson Shovel guitar). Happy strumming and shredding, guys!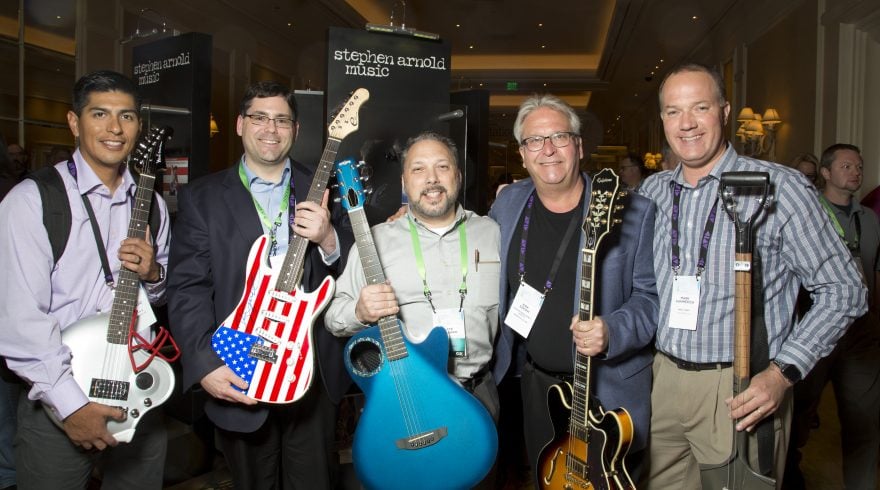 That was immediately followed by the 2nd annual edition of "Battle of the Promo Superstars," hosted by our own Marketing and Creative Director, Dave Baumann. This session saw five participating TV stations square off: Each received the same local TV news story, and were asked to produce packages of TV promos spots and social media marketing elements. After showing the news report to the session audience, each participant played their marketing elements and discussed the creative rationale they used to solve the marketing problem. The 2017 "Battle of the Promo Superstars" panelists were: Larry Watzman, WBNS 10TV, Columbus, OH; Jamie Holmes, KPTV FOX12, Portland OR; Scott Altus, KOMO-TV, Seattle, WA; Robyn Keeney, KOVR-TV CBS13, Sacramento, CA; Kellen Dargle, WKYT-TV, Lexington, KY.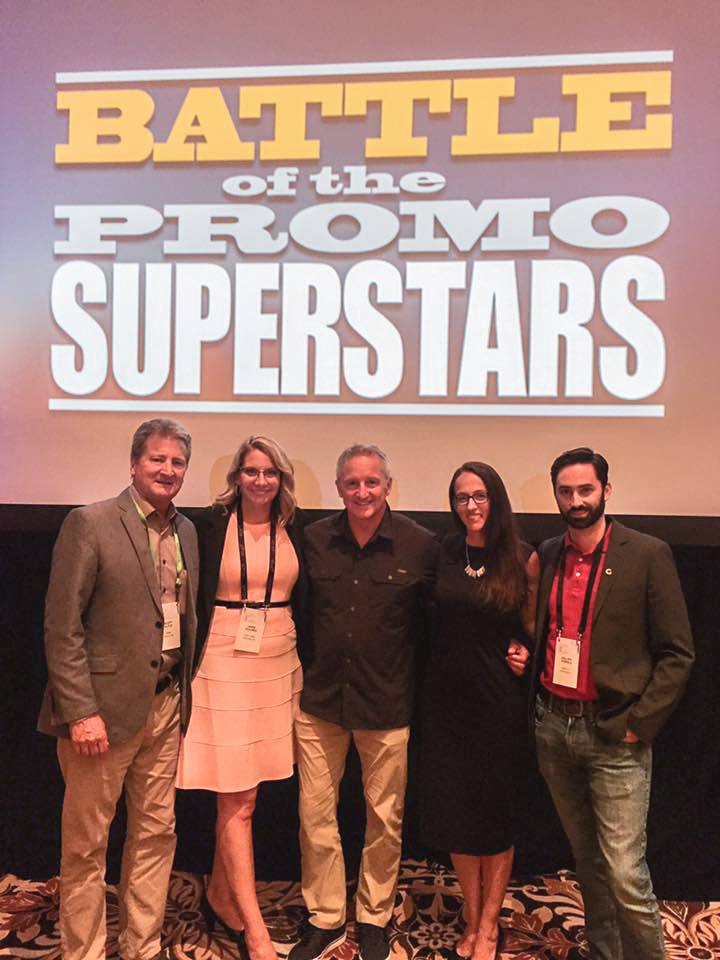 Finally, later that evening (whew!), we hosted ANOTHER Station Summit tradition, our annual SAM JAM party at the FIZZ bar in Caesar's Palace. It was a was a HUGE hit! TV station marketing executives whooped it up with Stephen (in the white hat, of course), the hot band and many talented party goers who stepped up to the mic or strapped on a guitar to show their chops. A rockin' good time was had by everyone!
All in all – it was a VERY successful PROMAX Station Summit – now on to next year!