What's the Sound of YOUR Story? Contest and Giveaway!
Posted by
Whitney Arnold
on January 8, 2015
|
No comments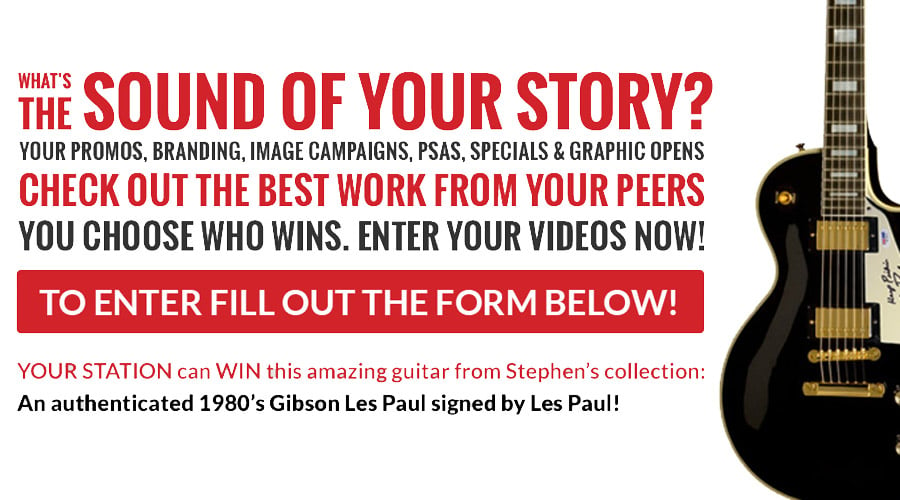 WHAT'S THE SOUND OF YOUR STORY?
It's a contest!  Simply submit your Promos, Branding, Image Campaigns, PSA's, Specials & Graphic Opens.
Then check out the best work from your peers on our video voting site.
You Vote to Choose Who Wins! (Voting starts January 26th)
ENTER YOUR VIDEOS NOW – IT'S EASY!
How It Works:
Simply enter your video(s) with the form above (must be a YouTube or Vimeo link) by January 25th. After that, users can vote for their favorite video one (1) time every 24 hours during the voting period.  After 2 weeks, the most popular video will be the winner!
Contact all your office mates, colleagues, peers, fans, friends, family, family friends, real friends, fake friends, facebook friends, friends with benefits, friends without benefits, followers, tweeters, instagramers, viners, and every random person who will support you and vote for your video so YOUR STATION can WIN this amazing guitar from Stephen's collection:  An authenticated Gibson Les Paul signed by Les Paul from the 1980's!
The winning video will be posted & Promoted at:
stephenarnoldmusic.local, facebook.com/StephenArnoldMusic, and twitter.com/S_ArnoldMusic
Enter Now through January 25th.  You Choose Who Wins.  Enter Your Video Now!