Guitar Giveaway & Book Signing at PromaxBDA 2012
Posted by
Chad Cook
on June 4, 2012
|
No comments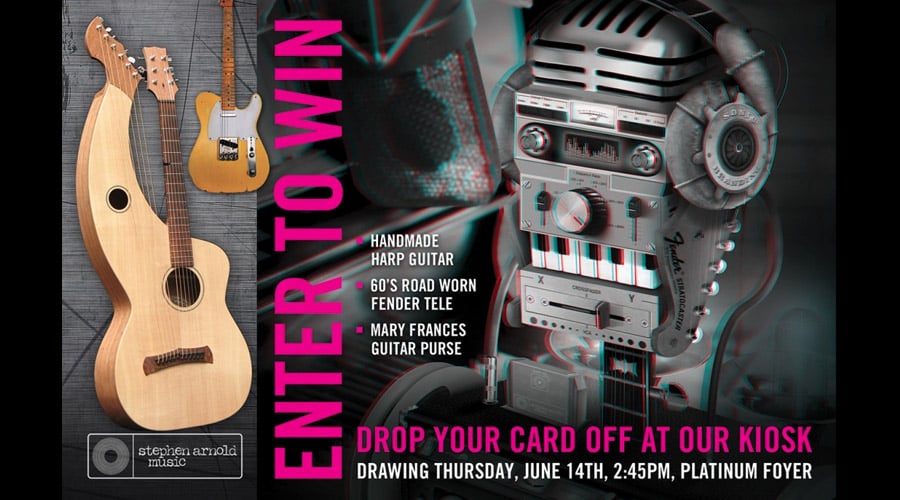 It's that time of year again – yep, it's time to head off to one of our favorite creative conferences – PromaxBDA 2012. This years conference will take place from June 12-14th in downtown Los Angeles at L.A. Live.
We're always excited to be part of the show and this year we have a couple of great guitars to giveaway plus a Mary Francis guitar shaped leather purse. Stephen will also be doing a couple of signing events for his book "A Story of Six Strings". So, if you want a cool guitar book and a chance to win some awesome prizes, just stop by our Kiosk located on the Platinum Foyer next to the session rooms for more details.
Giveaway Items & Book Signing Events:
GRAND PRIZE – Giveaway Item #1
Handmade Tonedevil: Harp Guitar S-12HG
Not your everyday 12 string, this harp guitar is handmade by Anthony and David Powell in Idaho. Designed after the vintage Knutsen/Dyer harp guitars from the early 1900s, it has an Alaskan sitka top, African mahogany back and sides, and Cocobolo rosewood fingerboard. Heavenly.
Giveaway Item #2
Fender "Road Worn" 60's Telecaster
Beaten, bruised and even burned, Fender's Road Worn 60's Telecaster is designed with 1960's specs which delivers that aged look and feel – built to look, sound and feel like it has more than just a few miles on it. Please note: This guitar needs to be played very loud.
Giveaway Item #3
Mary Frances "Hall of Fame" Leather Guitar Handbag
Be the music sensation you've always wanted to be…or at least feel like it when you carry this perfect guitar replica. This registered/numbered handmade leather purse is a conversation starter that will be the hit of any party.
Book Signings with Stephen Arnold
"A Story of Six Strings" by Stephen Arnold
This book chronicles the history of Stephen Arnold Music through Stephen's guitars, all of which were photographed on location throughout the United States. The book gives Stephen a new way to share his musical journey with you. These amazing instruments are as beautiful to look at as they are to listen to.
We look forward to seeing you at the show!