Battle of the Promo Superstars – PromaxBDA Station Summit 2018
Posted by
Chad Cook
on July 12, 2018
|
No comments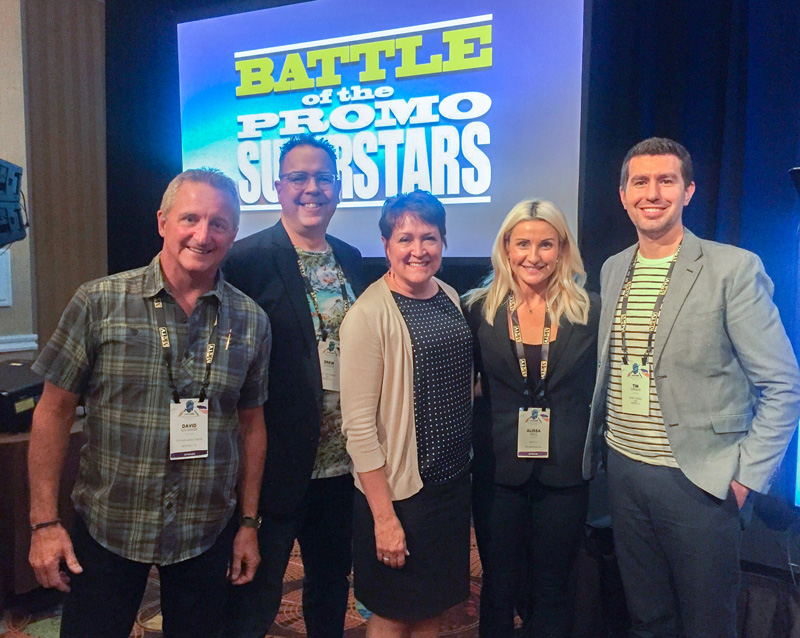 From left: Dave Bauman, Drew Sidner, Diane Hannes, Alissa Frick and Tim Sarquis
---
For the 3rd consecutive year, Dave Baumann, our Marketing and Creative Director here at Stephen Arnold Music, hosted the popular "Battle of the Promo Superstars" session at the PromaxBDA Station Summit in Las Vegas, Nevada on June 28, 2018. And it did not disappoint!
It's a simple concept: Each of the four O&O TV station marketing panelists is given the same news story from a "donor" station and given 48 hours to create a promotional package consisting of :30, :15, and :04 ID video promos, as well as a :30 radio spot and appropriate social posts.
Sound daunting? TV station promotion departments do this all day, EVERY day! But the fascinating idea here is to see how each of the four stations solved the problem differently, in their own, unique way.
To kick off the session, Dave presented a minute-long "spoof" spot, poking fun at all of the social media components producers need to include in their news promos…and it certainly got the standing room-only crowd laughing!
Then, the audience viewed the news story from WEWS-TV in Cleveland, OH – and it was certainly not an easy news story to tease.
First up to show her creative solution was Alissa Frick, the VP of Marketing from WTXF, the Fox O&O in Philadelphia, PA. Here is their :30 spot:
This slideshow requires JavaScript.
The next set of promos were from Tim Sarquis, the Director of Audience Development at KSFN ABC30, the ABC affiliate in Fresno, CA. Here is their :30 spot:
This slideshow requires JavaScript.
Representing the Windy City, Diane Hannes, VP of Creative Services at WMAQ-TV NBC5 showed and talked about her creative approach:
This slideshow requires JavaScript.
Lastly, Drew Sidener, the Creative Services Director at KCNC, The CBS O&O in Denver, CO, shared his promos and creative strategy with the audience:
This slideshow requires JavaScript.
Was there a winner? None was officially declared, but the session resulted in much spirited discussion afterward about the different approaches. But as Dave said in his presentation, it did show that there is more than one way "to put a diaper on a penguin".
At Stephen Arnold Music, we were thrilled to host this session, and we look forward to hosting the Battle of the Promo Superstars in 2019!