Get READY for a Guitar Giveaway
Posted by
Chad Cook
on August 12, 2017
|
97 comments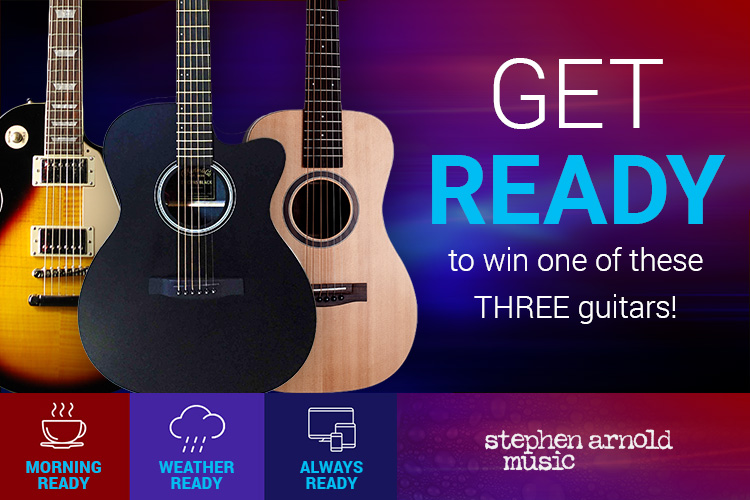 UPDATE: We have our winners!
Are you ready for "READY"? It's Stephen Arnold Music's newest and biggest multi-platform image campaign ever! It reflects how viewers feel when your station gets them ready for their morning, ready for the weather…ready for anything. It's essentially what your local news does – prepare your viewers for what lies ahead in their lives. And this is a big package, with two separate songs, embedded video, and a total of six different lyric packages with local lyric customization options.
To celebrate this launch of "READY", we're giving away THREE guitars, reflecting the three themes of the campaign:
Morning Ready – Sunburst Vintage Epiphone Les Paul Standard Pro
Weather Ready – Weatherproof Martin Compressed Laminate (HPL) Acoustic Electric Cutaway
Always Ready – Collapsible Travel Guitar, Journey Overhead Model OF420
These are three really cool rigs, just waiting for you to own one and play!
To enter, just listen to this new multi-platform image audio/video package "READY", and leave your comment below. How's that for easy? We'll print out all entries, choose three names from our infamous fishbowl, and send each of the winners one of these beautiful "READY" guitars. C'mon! Get ready to win a guitar just for watching and listening to "READY", the newest image campaign from Stephen Arnold Music, the World Leader in Sonic Branding!
Drawing to be held on Wednesday, August 30, 2017 at 3pm CT.  Click here for complete rules and regulations »
Good luck and thanks for listening to "READY"!