Listen. Enter. Win! It's a Resonator Guitar Giveaway
Posted by
Stephen Arnold Music
on March 18, 2014
|
No comments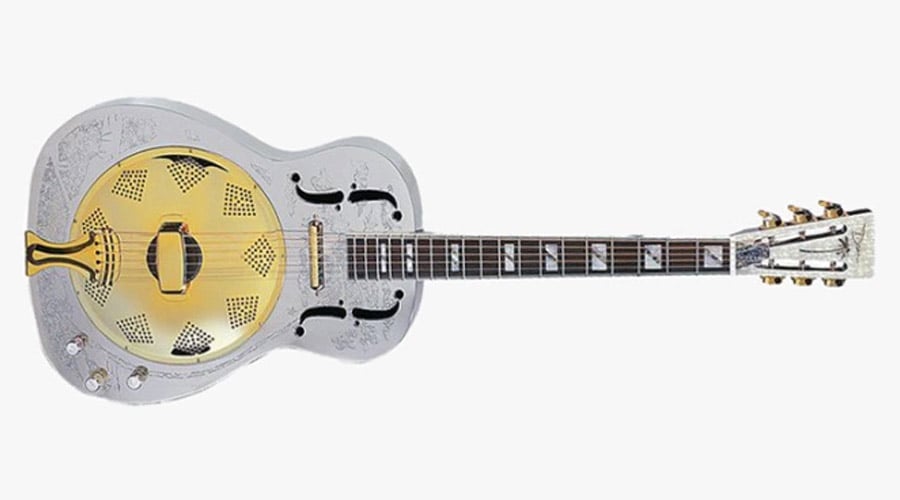 Okay, here's your chance to win one of the coolest guitars from Stephen's personal collection – his 2007 Dean Chrome and Gold Acoustic-Electric Resonator!
This axe, one of Stephen's favorites, is more of a hybrid than anything. You have the sound & tone of a true resonator, but the playability and upper neck access of an electric or really great acoustic guitar. It has a magnetic "lipstick" pickup and a piezo electric pickup, which gives you the ability to produce both electric and acoustic tones.
And who knows, master it and become the next Billy Gibbons of Texas' own ZZ Top (maybe that's a stretch but he owns one as well!).
All you have to do is:
Listen to our four most recent news branding packages, and
Comment on which one is your favorite:  iNergy, This Is The Place, All About Early, or Canvas
(and feel free to tell us why you liked one more than the others…)
After that, your name will go directly into the hat… and you'll be instantly eligible for the Dean Resonator — IT'S THAT EASY!
The drawing for the giveaway will be on Thursday, April 3rd, 2014.
Here's a photo of your potential future, Dean:
Listen to the packages here and leave a comment below:
Inergy
This is the Place
All About Early
Canvas
Click here for contest rules and eligibility requirements.