What's Printed Where – Free Sonic Branding LP
Posted by
Stephen
on August 17, 2015
|
No comments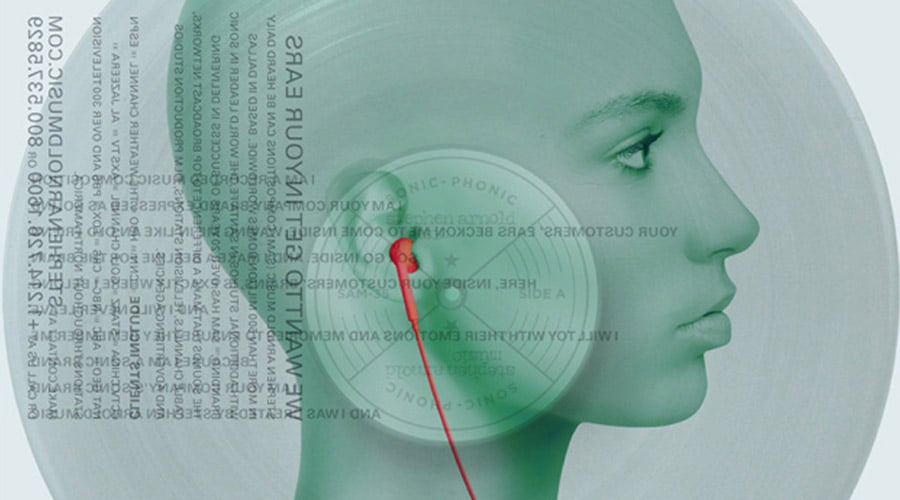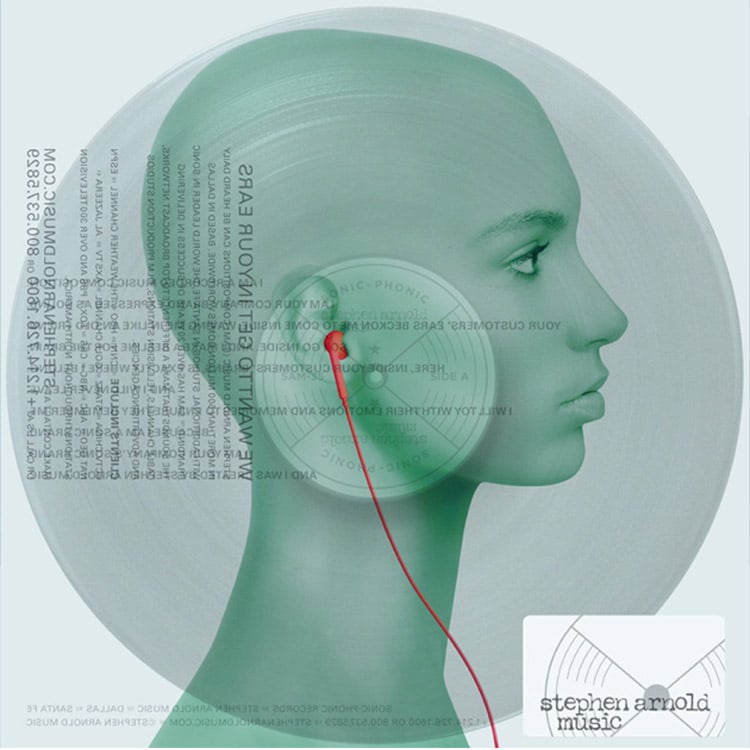 We here at SAM can't resist having fun with music – in all its forms. Now we're doing it again with the latest in our series of limited edition vinyl releases.
Behold our latest creation, "What's Printed Where."
What's the deal?
Well, take a clear vinyl record that you can see through. Next, slip it into a transparent sleeve with a yellow image, then slide that sleeve into an album cover which is also clear, but with a blue image, and voila – it's green!
You are now looking at a very cool LP fresh off the press from SAM – our 3rd generation sample reel – which isn't really a reel but a vinyl record (hint: usually works best with a turntable.)
Thus our newest Stephen Arnold Music Vinyl is appropriately titled "What's Printed Where," since we never really knew what was going to be printed where.
The fun part is when you first receive your LP, you'll notice the revamped image of our original sonically branded lady: a girl with a shaved head whom we have always internally referred to as "Mary." Once again Mary is on our new vinyl, only now she's green with red ear buds.
But once you pull the sleeve from the LP cover, it turns out our Mary is actually blue…but in fact on the sleeve she's yellow. Confused? We are too! So let's all roll with it – because if you reassemble the sleeve out of sequence, you may well see Mary in a totally different light (color, that is).
And as a special bonus, you'll notice a credit card that we've slipped into the LP jacket and, depending on how rough the mail service was and where the card ends up inside the cover…. this card could be green, blue or yellow – until you pull it out and see it's actually white.
And actually, it's not a free credit card (sorry!) but a flash drive with all the music contained on the vinyl — for those of you that have retired your turntables. It's music from our amazing partners we are privileged to work with like CNN, Golf Channel, CCTV China, ABC, ESPN, MSNBC, FOX Business, National Geographic Channel, Time Warner and over 300 local television stations.
Know what's printed where now? If not, just listen: It'll all make sense to your ears. And Kudos to Doug Rucker and his amazing team at Rucker and Co. in Dallas for creating something which is nothing short of creative genius.
To request your free LP just click on the email link below. It's that easy!
Or give us a call at:
214.726.1600
We look forward to hearing from you!