Stephen Arnold Music Celebrates a Sweet-Sounding 2014 with Projects for CCTV International, Golf Channel Ryder Cup, Golf Films, ESPN Deportes, CNN and Much More
Posted by
Chad Cook
on February 18, 2015
|
No comments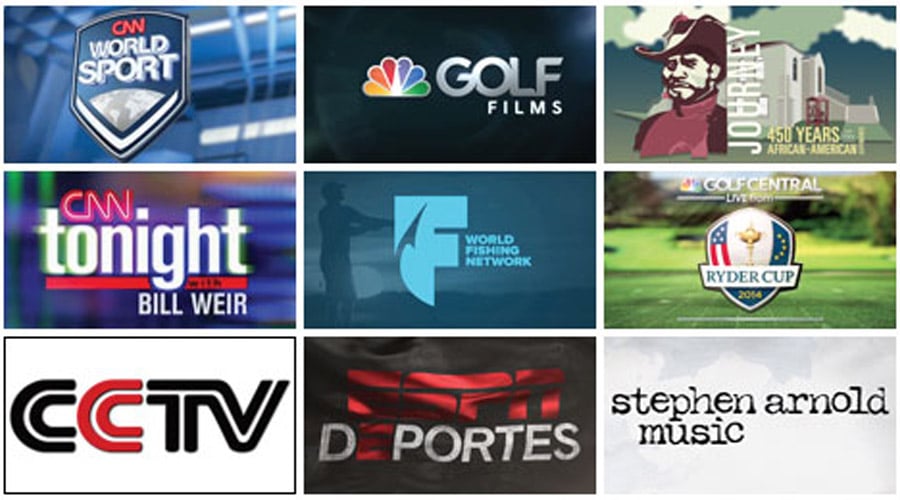 The Leaders in Sonic Branding Have Momentum Heading into 2015 with Diversifying Portfolio, Plus Successful Launch of Sam2 Media Artists
DALLAS – January 20, 2015: Stephen Arnold Music (www.stephenarnoldmusic.com) comes into 2015 with plenty of momentum, following a prolific year packed with high-profile projects and successful new business initiatives.
"The media and brand universe is evolving faster than ever," says Stephen Arnold, President of Stephen Arnold Music. "Important developments in the way content is distributed and experienced are constantly presenting fresh challenges to creators. We're providing an expanding range of solutions designed to keep our clients ahead of the curve, and memorably connected to their audience."
View Recent Projects Here:
http://www.stephenarnoldmusic.com/RecentProjects/2015-01/
Highlights of 2014 include:
CCTV International
Stephen Arnold Music was tasked with creating a sonic brand and comprehensive music package that would be shared between the five CCTV International Channels – Arabic, English, French, Russian and Spanish — all while taking into account the individual channel regions, cultures, and target audiences. It proved to be a planet-spanning project as epically challenging as it was rewarding.
Golf Channel Ryder Cup
Golf is a sport of deep tradition, but the broadcasting of this historic pastime is experiencing big changes: Golf Channel broadcast the Friday matches of the 2014 Ryder Cup for its first-time ever live coverage of the event. The music that set the stage for this classic competition is evolving as well, driven by unforgettable new themes from Stephen Arnold Music.
Golf Films
Stephen Arnold Music created an iconic theme to brand "Golf Films" – original content, documentary films and programming created by Golf Channel. The piece features live orchestration and players from the Dallas and Fort Worth symphony orchestras.
ESPN Deportes – UEFA Euro
World excitement about championship soccer has never been more extreme, with tournaments across the globe drawing its largest viewing audiences yet. The reverence the sport inspires was perfectly encapsulated in a rivetingly different upfront for ESPN Deportes that was scored by The Vault, the Anti-Library from Stephen Arnold Music
CNN Tonight
A new addition to the CNN nightly lineup, "CNN Tonight," launched with a complete music package from Stephen Arnold Music. The Leaders in Sonic Branding provided a strong, contemporary package for the program, which airs weeknights on CNN.
CNN International – World Sport
CNN International's long-running flagship sports show, World Sport, needed an updated music theme to go with a new graphic look. Building on the sonic brand and package originally created by Stephen Arnold Music, a new show theme was created to complement the new, sleeker graphic look and capture the excitement and passion of sports fans the world over.
Need clip and link
World Fishing Network
World Fishing Network launched its first-ever brand redesign since going live in 2005, with a powerful new sound to match its viewers' passion. Their theme is now a driving, raw rock performance created by Stephen Arnold Music, which used amped guitars, bass, and live drums to bolster World Fishing Network's new look and feel. The new theme, which strives for authenticity, rawness, and strong rock and blues roots, is part of a brand update that underscores the network's mission: delivering diverse and engaging content to fishing enthusiasts.
The Launch of Sam2 Media Artists
Sam2 Media Artists, a joint venture between Stephen Arnold Music and Gordon Smith Creative, launched. Sam2 Media Artists is a dynamic new one-stop shop that offers clients both media strategy and marketing services, providing broadcasters of all sizes with an innovative approach to marketing strategies, media planning and sonic branding.
Sam2 "Journey" Documentary Special
An amazing piece of American history will come to light for the first time when Black History Month arrives in February, 2015. That's when local TV stations nationwide will have the opportunity to present "The Journey – 450 Years of the African-American Experience", a fascinating new documentary special. Produced by Mummycat Productions and Sam2, a division of Stephen Arnold Music, "Journey" reveals the never-before-told true story about the role that free blacks played in the founding of St. Augustine, Florida, the oldest city in the United States. Interviews with experts and vivid imagery combine in "Journey" to explain how the first African Americans reached the new world long before the founding of Jamestown – not as slaves but as free men.
###