"Can I borrow a couple of your favorite guitars for a few days?"
Posted by
Stephen
on May 17, 2016
|
No comments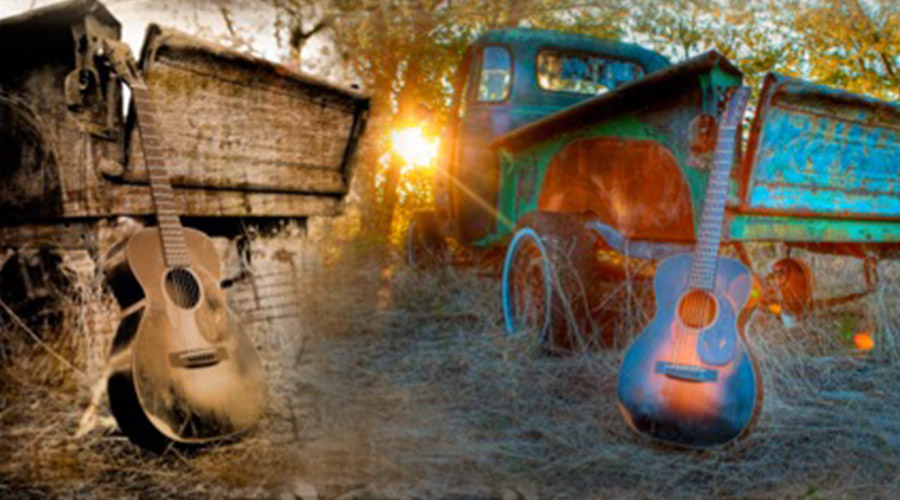 I remember back in the summer of 2011 getting a call from Texas photographer Chris Fritchie. "I have this idea," began our phone conversation, "May I borrow a couple of your favorite guitars for a few days? . . . Trust me," he said. Chris has a passion for music – especially guitars – and what he always loved about talking "guitars" with me was that it was never about the most expensive or unique guitar, but rather how these instruments capture a moment, a place in time. . .
So he came by and I gave him two of my favorites – my 1934 Martin 018 and a 1969 Fender Strat. Then a few days later he called and asked, "by the way, are there any stories behind these guitars?"
I'd never really thought about the stories behind those guitars, but all at once the memories kicked in and I recalled how I got that '69 Strat. In late July 2005, about a month before Hurricane Katrina, I was in New Orleans for some sessions for WWL-TV and found that Strat at a vintage music store. Two things are special to me about this Fender:
I probably saved that guitar's life, because the music store was destroyed a month later during Katrina (I've named the guitar Katrina… My favorite guitars all have names.)
I used the guitar playing all of the sonic logo harmonics on the Weather Channel's "Storm Alert."
Then I recalled how I got the '34 Martin which I always called my Wedding Guitar. I was best man at a close friend's wedding in North Carolina, and we decided to take a detour that nearly made us miss the whole event. The morning of the ceremony, the groom insisted on driving out to an old barn he had heard about located "somewhere in North Carolina." It allegedly housed a massive stock of vintage Martin and Gibson guitars. The wedding started at 4 p.m., and we made it back with a whopping 30 minutes to spare, looking a bit worse for wear. The marriage didn't last, but I still have the Martin I bought that day. My "wedding guitar" rings like a bell, and has been pushed into service many times since then appearing on dozens of music packages.
After that, Chris thought it would be interesting to tell the story of Stephen Arnold Music against the backdrop of my guitar collection; not to "show off" the guitars, but to simply celebrate an amazing journey and share a life-long passion.
He always said: "The love is clear . . . who really has their first guitar?!"
It was a rare opportunity and we both seized the day. I supplied the stories, memories and anecdotes, while the instruments helped illustrate the journey. Chris's images comprise a unique collection of art, all based around a simple 6-string . . . with a few 8 and 12 strings thrown in for fun. All guitars were photographed on location throughout the United States, documenting a journey that goes back nearly half a century.
Thus began The Story of Six Strings.