We LOVE giving away guitars! Promax 2020 Wrap Up
Posted by
Dave Baumann
on September 7, 2020
|
No comments
One our favorite things at Stephen Arnold Music is to share our love of music with others. And there's no better way to do that than our ongoing Guitar Giveaways! This past June, we sponsored a virtual Guitar Giveaway in conjunction with the PROMAX Conference for local television marketing and advertising executives. Normally, we do it in person at the conference in Las Vegas, NV, but due to the COVID-19 pandemic, everything was done online. The anticipation and excitement of winning a cool guitar was just the same! We dubbed it the "Collectors Series Guitar Giveaway, from Stephen Arnold's Studio". These four guitars were representative of some of Stephen's favorite classic axes from the history of rock n' roll.
So what happens to these guitars after we give them away? Here's a look at the four winners after they took delivery of their prized instruments.
---
Molly Browning – WSAZ

Molly Browning, the creative services director for station WSAZ in Huntington, West Virginia took home the hot-rodded Stevie Ray Vaughn Fender Telecaster. And guess what? She is already a player – with a righteous collection of her own! "Here is a pic of me and the sweet SRV," says Molly. "My playing is not worthy of this guitar. 😊 But, I'll work on it, and my daughter is taking guitar lessons now so she can pick up where my skills are lacking. Thanks again!" It sure is gratifying to see that the SRV Telecaster found such a loving home.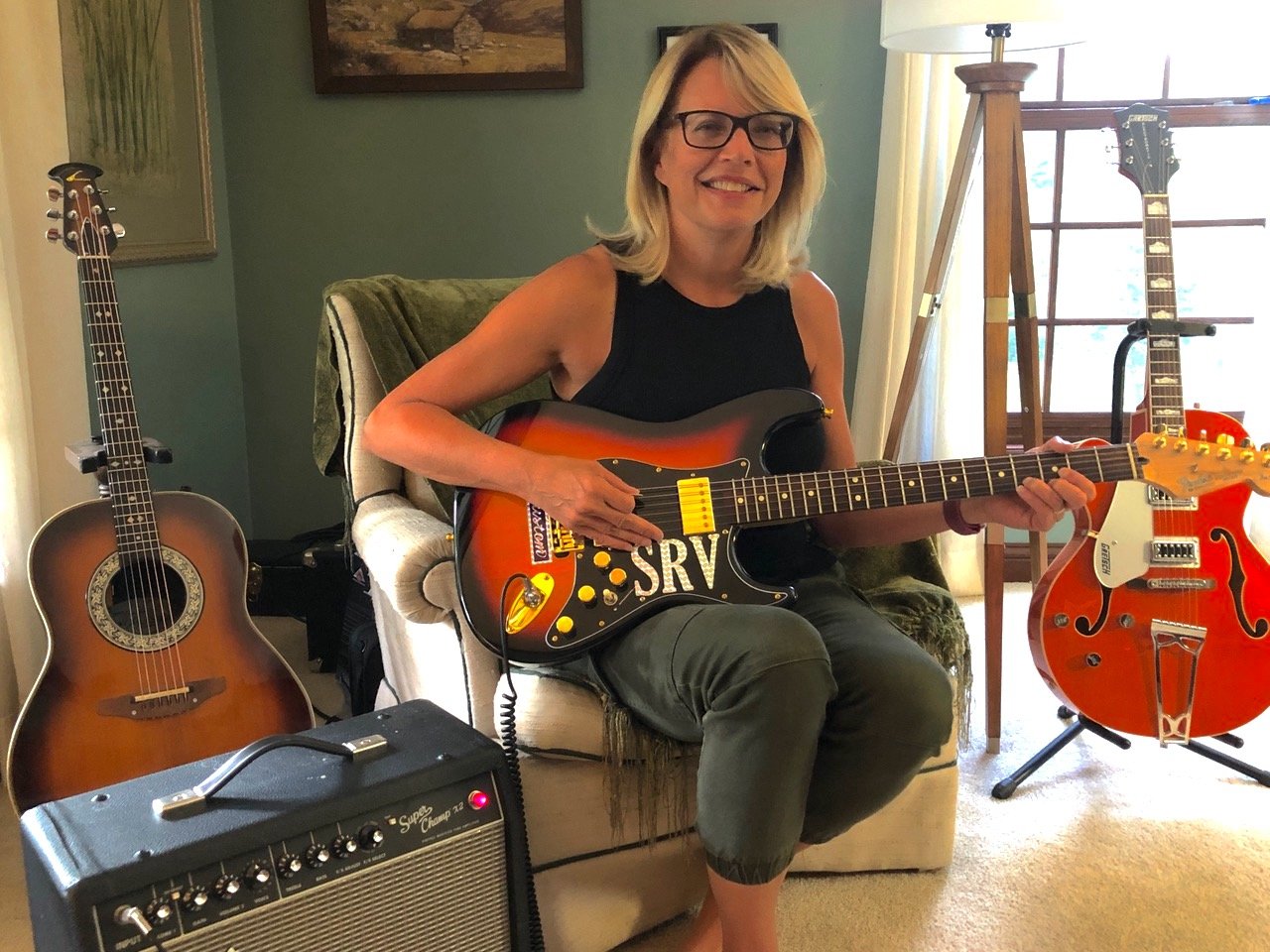 ---
Patrick Williams – WVVA

The acoustic Guild D-40 guitar also landed in the talented hands of another guitar player, creative services director Patrick Williams of station WVVA in Bluefield, West Virginia. Hmmm…sounds like good tunes are coming out of the Mountain State! Anyway, Rick really appreciates the beautiful sound and action of the Guild. Rick says: "Here's a picture of me and the new guitar in my home office. It sounds great! It's forcing me to be less sloppy because I can hear all my mistakes now. 😄 Thank you so much!" And thanks to Rich for adopting sweet, road-worn guitar.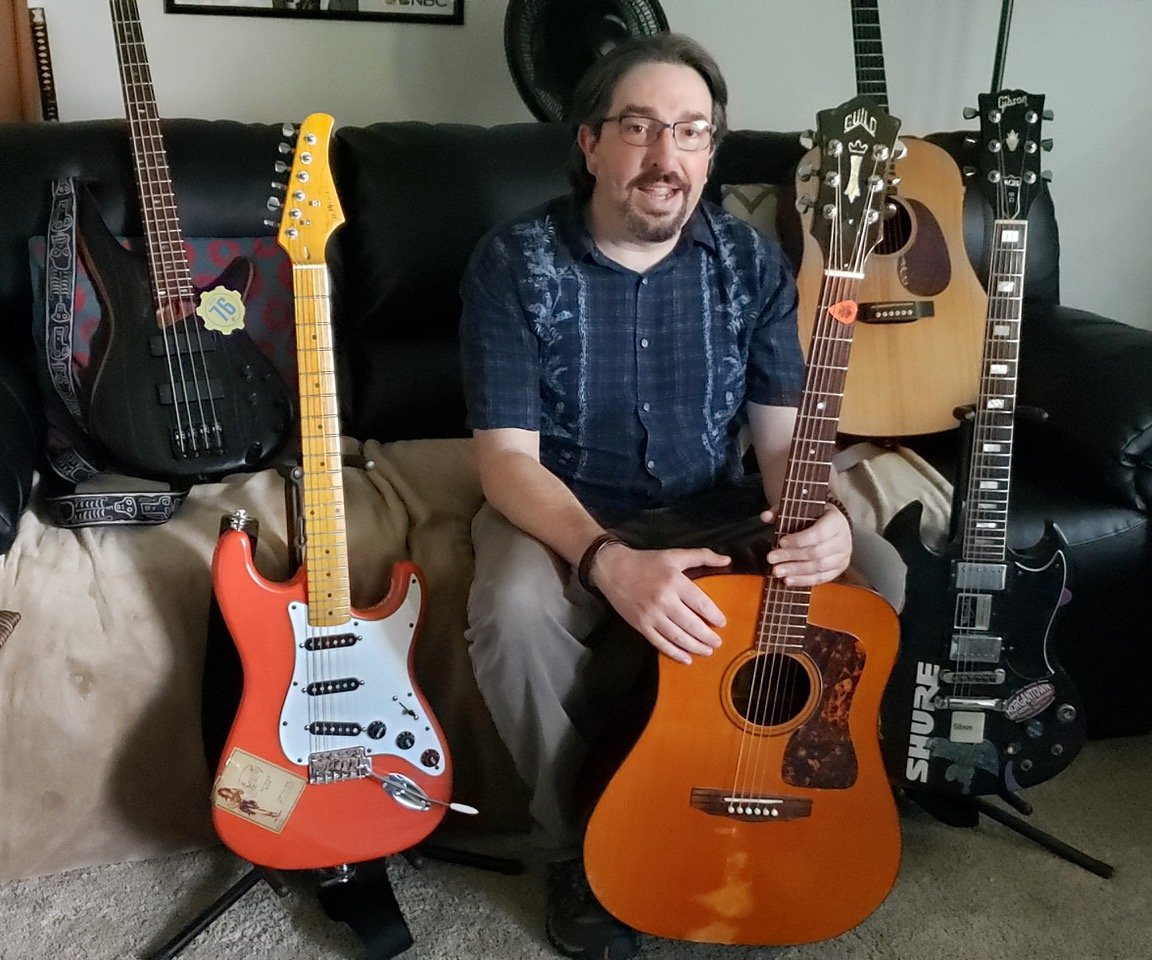 ---
Ted Fortenberry – WLBT-TV

The 50's Roadworn Fender Telecaster ended up on the doorstep of Ted Fortenberry, vice president and general manager of WLBT-TV in Jackson Mississippi. Ted was thrilled, to say the least: "The guitar is awesome. Although I am a drummer, I love music and grew up in the 70s-80s, so having this guitar is special. My sister and brother-in-law are part of a bluegrass trio, and my brother-in-law is a fantastic musician and can play any guitar/banjo, etc. As soon as it arrived I sent him a picture and said, 'Guess what I just won?' He immediately researched it and gave me all the history of that model. I am very thankful." It sounds like this Telecaster won't just sit in the case…it's gonna be a real player!

---
Kermit Stevenson – WQAD-TV

The wild, custom "Texacaster" guitar found its way to Kermit Stevenson, the creative services producer for WQAD-TV in Moline Illinois. Needless to say, he was texcited to call this unique guitar his own: "It was awesome to win the guitar. The Texacaster is very cool and was produced with such great craftsmanship. When I went to a local music store to get a leather strap, picks, and a book, the guys were impressed by the guitar. They even looked up the manufacturer while I was there!" Kermit is motivated to learn to play on this rig, but it looks like he will have to share it a bit. "My trumpet-player daughter has hijacked, tuned, and played around with it a fair amount. Between us, it won't just become a wall decoration!" All we can say is – rock on, Kermit!
Thanks to everyone who entered the contest. Honestly, it's a ton of fun for us see the excitement on the faces of the winners, and see how they use the instruments. And the best part is, we'll never run out of cool guitars! So watch for our next giveaway…you never know when we'll get the urge!